Mel
hit me with her rhythm stick - er, music meme - so instead of catching up on laundry, dishes, eyebrow-waxing, thesis etc, here 'tis.
But first, just to get everyone in the mood, here's a lovely and relevant photograph from last weekend's Ivanhoe Fiesta. We went to this because it said in the local paper that there would be "roving impersonators" entertaining the crowd and there was a photo of a John Denver impersonator just to whet the appetite. So yeah! I got a bit excited when I saw this guy walk on stage, I naturally assumed he must be a Robert Plant impersonator: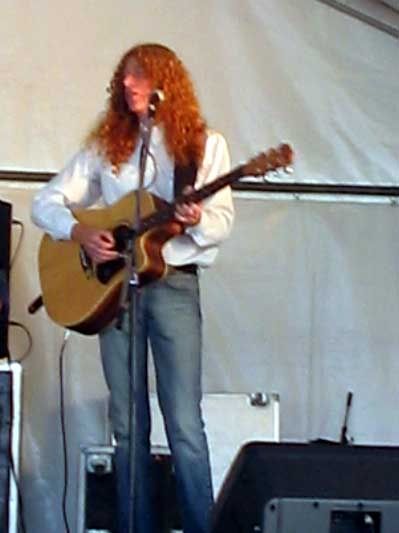 But no! he was just some guy in a band who dresses that way for non-impersonating related reasons :(
Sorry, that was quite a worthless story. On with the meme.
Total volume of music on your computer:
6.75 GB (we had a Traumatic Hard Drive Event not so long ago and reconstruction is still happening)
The last album you purchased was:
Me personally? I'm not the one who hands over the cash at the till, that would be
Dorian
mostly. I think the last CD he bought might have been
Guero
.
Song playing right now:
Pulp,
Joyriders
, from
His 'n'Hers
(iTunes is on random: but this is a pretty good song, yes? Hard to believe this album is more than ten years old.)
Five songs you've been listening to a lot recently, from several genres:Sally Simpson
, The Who
No One Fell Asleep Alone
, The Handsome Family
How Does It Make You Feel?
Air
Disney Girls 1957
, The Beach Boys
Ant Music
, Adam & The Ants
Home Is Where The Hatred Is
, Esther Phillips
Five people to whom you're passing the baton
(with humble apologies)
MC Gregg
, IndaHouse. She's going to be a busy blogger this weekend, but hey, memes know how to wait.
Mallrat
: if Mallrat is working a split shift on the Synchotron then maybe that hot chick Tenhae could fill in.
Phantom Scribbler
: let's see if she can outdo my musical inadequacy schtick.
Brownie
- fingers crossed she might dish some more juicy rock n roll gossip!
Jellyfish
because she loves David Bowie too, and she's seethrough with long floaty tentacles.