I intend to finish and submit my PhD dissertation in March of next year, 2006 (she says, as she writes blog not thesis.) Australian readers who do academe will most likely already know about the PhD process here: one chooses a topic and a supervisor, one says 'Seeya', one does a three to seven year stretch in solitary confinement, one re-emerges blinking into the daylight clutching a 90 000 word manuscript, which is read and assessed by three basically random stranger academics, and passed or failed by those readers. We do no coursework. This has good and bad points: good in that the finished dissertation is already very close to publishable book form, bad in that getting it written is a bit like mentally shitting a hovercraft. But I digress.
In order to tee up those three random stranger academics (who each get paid something like AU$300 to compile pedantic lists of typos in your text), you have to give your university at least three months notice of your intention to submit a thesis for examination. So I will need to do that quite soon. I already have a shortlist of people who I want to ask for as examiners, no problem there, but I'm not getting anywhere with thinking up a title for the dissertation.
And it
has
to have a title.
The working title on file is so cringe-inducingly bad that I'm not even going to hint what it is. (Just think pretentious-vague-wordy-cliched.) Older books titles in my field don't suggest much, except as tremendous examples of where
not
to go and what
not
to do. Look at these: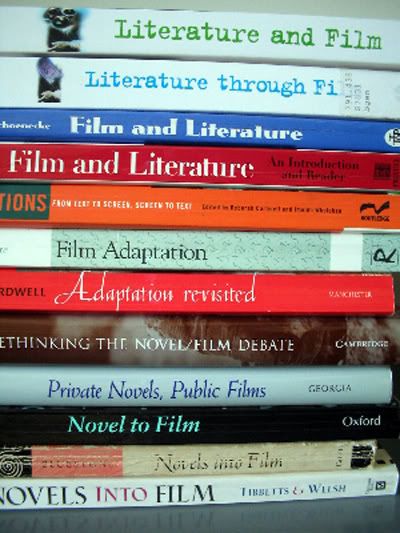 You see there is kind of a 'tradition of lameness' thing going on here. So any type of variation on the 'novels and films' 'novels into films' 'film and literature' 'film adaptation', 'novel adaptation' etc, is
RIGHT OUT
. (There is also the intensely annoying sub-genre, 'Author X On Screen', 'Author X At The Movies', GOD, we won't even
start
on those.) Here are some more things I cannot have in my title because they are completely effing tragic:
- puns
- format "pithy quotation, full colon, witty subtitle"
- actually any format involving a colon
- the words 'cinematic' and 'filmic'
- the word 'adaption' (it's AD-AP-TATION, people. Thankyou.)
and for preference I would like few or no Latinisms, which is kind of hard given that the subject of the thing is adaptation.
It has occurred to me that maybe I should just abdicate responsibility for the whole thing and set up an auction for the naming rights on ebay, like those people who sell off the name of their unborn children. But what puts me off is just knowing how depressing it would be if nobody bid, or if only one or two people bid and I didn't end up making vast sums of money in exchange for the sacrifice of my dignity. (just on that: have you ever searched 'dissertation' or 'testamur' on ebay? It doesn't always turn up the real thing, but sometimes you'll get someone attempting to flog copies of their thesis, 'just to test the market', oh my lord.)
Here are some ideas I've had:
Adaptation - The Very Last Word On The Subject.
ADAPTATION!!!
(my personal favourite, so far)
World's Wildest Adaptations (Caught on Camera)
It's a Mad, Mad, Mad, Mad Adaptation

Clearly none of these are all that suitable.
Got any suggestions? Please??