Ok, here's my project: or perhaps it's a meme: though I doubt anything qualifies as a meme if only one person is onto it. Well, anyway, every Friday I do a different piece of sculpture selected from the vast numbers littered around lovely Melbourne. My only criteria are: it must be outdoors, it must be more or less permanent, and it must be in a publically accessible location. (Suggestions, especially for sculpture in the 'burbs, are very welcome.)
#2
Capt. Matthew Flinders RN: 1774-1814: Navigator
Swanston Street, City: outside St. Pauls' Cathedral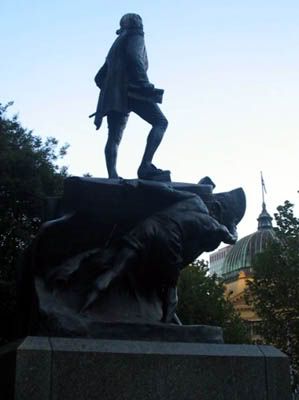 This is bronze on a granite pediment. It was 'erected by public subscription' in 1925, which is also the year of the death of the sculptor,
Charles Web Gilbert
(who was born in Australia in 1867.)
Flinders stands in the prow of a boat which is being guided ashore by two sailors, one working on eaither side. In one hand he holds a telescope, in the other a rolled-up chart, but he is looking at neither: rather, he gazes sternly ahead. The group is slightly more than life-size and placed so that the bottom of the boat is at eye-level.
It is a familiar type of statue. Heroic, formal, manly. The patina of weathered bronze is one of the important surfaces of our city; it seems that Melbourne's big men, in the period of prosperity after the gold rush, felt that we needed monuments to increase our dignity, and went on an extended shopping spree that gradually developed into a civic habit: statues like this are all over the place.
So what's interesting about this one?
Matthew Flinders
is not really one of the a-listers of our colonial story, not like Captain Cook, or Burke and Wills, for instance: I associate him much more with residual Englishness than emergent Australianness. His dates are close to Jane Austen's (1775-1817), and somehow 'Navigator' strikes me as much more Empire-centric than, say, 'Explorer', or 'Founding Father', for example. And the statue
is
out the front of the Church of England cathedral.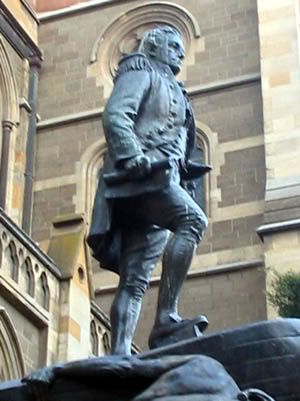 I would not have thought that by the 1920s it was felt that Melbourne particularly needed more 'history' monuments to reinforce our English parentage. (At the same period in Sydney they were working on the Harbour Bridge.) But I don't know if that is really what this statue is doing. Circle it as many times as you like, you can never get a perspective on it that differs much from this one: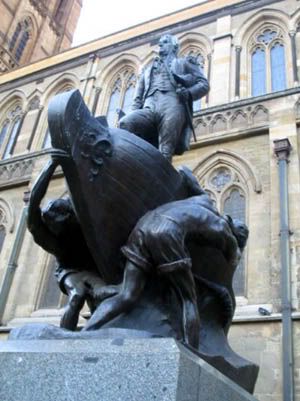 Is there a subversive tinge to this monument? (The sculptor's bio might support that idea.) Flinders is always away and remote up there, literally high and mighty. What is perpetually in your face, though, is the two boys straining away trying to push the boat ashore. So you're seeing the Hero Englishman standing on the foundations of hard labour done by the people Grand History doesn't tell us about. I look at this monument and think 'why doesn't he get out and help? Who does he think he is?' And of course, by posing away up there he's left himself open to the curse of all standing figure sculpture - the bird poo on head effect - never a very dignified look.