Today being the weekend and a day of rest, we scarfed down our poached eggs & avo on toast, told each other about the truly amazingly proportioned mountain of crap that is Saturday's
Age
, then went out leaving the cat home by himself to answer the door if any jehovahs came a-knocking. It's a heavy responsibility for such a young, dumb cat.
We headed over to Richmond to
Kazari Warehouse
, a place I can't allow myself to visit more frequently than once every six months or so, it's just too dangerous. (You do realise, I hope, that you're NOT allowed to tell anybody else about Kazari? Good.) I wanted to buy some kimono silk offcuts to make a bunch of sik & velvet scarves for ebaying, and I found lots of excellent stuff in pinks and lavenders and silvers and dark reds. Yummy yummy! I've chopped them up already into about forty thousand pieces, they are all going to be stitched back together again in long scarvey strips and backed with silk velvet in either black or berry.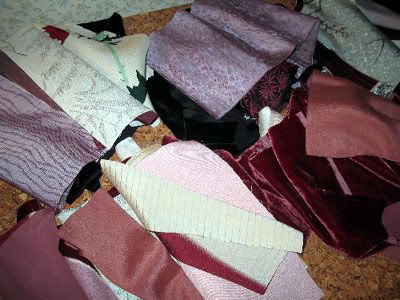 How I do love to buy fabric. Fortunately I get to buy lots. Dorian is extremely patient with me in fabric shops, which for some inexplicable reason he seems to be bored by, but today he got into the spirit of proceedings, and actually suggested we buy some bigger pieces of silk to make into a big, flat, foldable floor cushion for the living room. We played with the bolts of silk for quite a long time and finally settled on five different patterns. There was no disagreeing or anything like that. Great when that happens, isn't it?
here's the silk for the cushion.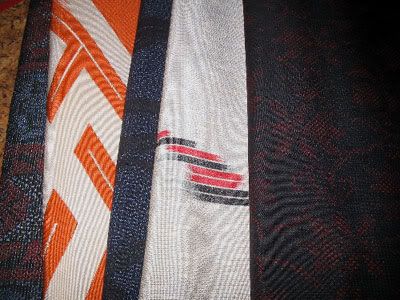 the orange and ivory piece has a large scale key pattern woven in it that it occurred to me after we got it is slightly reminiscent of a swastika - you do tend to see swastika forms quite a lot in Asian design and in imagery from Buddhist cultures. I *think*, however, that i'll be able to cut it so those shapes are completely interrupted. if I cut it and it doesn't convince me, i'll just leave it out rather than be bothered by it forever after. Kimono silk comes on little bolts about 35cm wide; i think we got about 6m total. It looks a bit crap in the flash, but take my word, it's gorgeous. I just have to find some place to sell me some of the heavy cotton stuffing that goes inside futons. *lightbulb* maybe I'll try a futon factory?