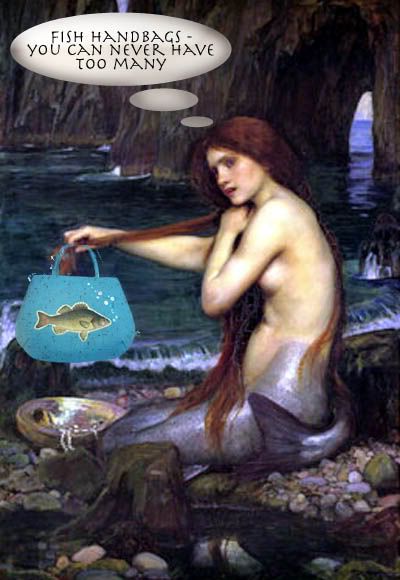 I've just spent a horribly frustrating day uploading my new lot of handbags to my
ebay shop
. I must have some sort of secret complex about it because even after all this time i can never remember the web address and always have to look it up if I need to write it somewhere.
The bags this time are marine-themed. I love making them, but taking the photos, writing descriptions, and wrestling with the crap ebay interface, I do not love.
Ebay is sometimes a painful environment to operate through, especially as I live entirely off the proceeds and it really buggers things up for my finances when somebody gets over-excited and claims a bag, but then they don't pay for it. But I when I'm not actually trying to get some part of it to work properly, I find the whole thing really fascinating, particularly the users, who seem to me to be a whole different demographic that you don't see anywhere else on the internet. That movie
The Castle
was crap in many ways, but my impression of the typical Australian ebay user is surprisingly close to the people in the Kerrigan family. Lower middle class / working class; not well off or well educated; home oriented; and -- I really like this -- they have their own organic and unselfconscious aesthetics.
Some people in my academic circle have looked at me funny when I've explained to them that I make a living selling my handwork on ebay. I don't tell many people because it's sometimes too hard to explain, and you never really know how much they are going to take in. It may be just what I sell influencing this impression, but I also think ebay (in Australia, at least) is regarded largely a somewhat abject feminine web space. It is so much bound up with the domestic, the homely, with the kids, with budgeting and making ends meet, and with piecework type occupations. Not very macho, not very high-powered. Another reason why I feel comfortable there.